Sutton's Cafe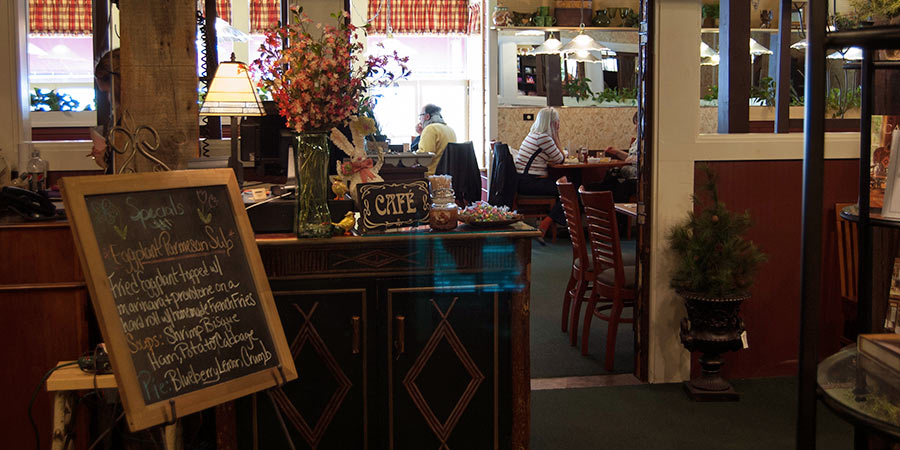 Open For Breakfast & Lunch
Come join us for breakfast and lunch in our country cafe. Our menu has something for everyone; from burgers and fries, to our kids menu, as well as wraps, grilled sandwiches, and a selection of tasty salads.
We also offer cold sandwiches made on our own fresh baked bread. Don't have the time to dine in our cafe, order a take out sandwich and take it on the go. In the warmer times of the year you can even dine out on our patio under the bright blue sky.
Breakfast
Breakfast Menu
Served Monday-Saturday 7:30– 11:30 Sunday 7:30-12:00
REFRESHMENTS
Juice
Apple, Orange, Grapefruit,
Cranberry, Tomato
Small 1.95 Large $2.50
Coffee, Assorted Hot Tea, Flavored Coffee
$2.19
Orange Cream
Orange Juice & Vanilla Ice Cream
Topped With Whipped Cream
$4.25

Brown's Orchard Sweet Cider
$2.25
Hot Chocolate with whipped cream
$2.25
Fresh Squeezed Orange Juice
$3.95
Strawberry Apple Smoothie
Frozen Strawberries & Apple Cider
Topped With Whipped Cream
$4.25

Mimosa
Fresh Squeezed Orange Juice & Champagne
$6.00

Milk or Chocolate Milk
Small $1.95 Large $2.15
---
Basket of Cider Donuts
$3.95

Our Famous Grilled Raisin Bread
drizzled with warm icing.
$3.25

Single Donut
choice of cinnamon, powdered or plain
.80
Fresh Baked Muffin
Ask your server for today's selection
$2.25
Butter Croissant
$1.95
Bagel with cream cheese
$2.25
Home baked Toast, English Muffin
or Grilled Hard Roll
$1.75
Fresh Fruit Medley
Served with strawberry yogurt & choice of fresh baked muffin
$8.25
---
HEALTHY LIVING
Pure N' Simple Granola
topped with fruit and strawberry yogurt
$5.95
Oatmeal
with almonds, apples & raisins
$4.95
Oatmeal
with maple syrup & almonds
$4.95

Oatmeal
topped with warm blueberries
$4.95
---
LOX & CREAM CHEESE

Smoked Salmon
,
chive cream cheese,
tomatoes, cucumbers and sprouts
on an everything bagel
$11.50
---
HOT FROM THE GRIDDLE
Served with creamy butter and syrup
Country style Pancakes
Buttermilk or Whole Grain
$5.95
Strawberry
$6.75
Blueberry
$6.75
Banana Nut
$6.75
Chocolate Chip
$6.50
Banana Chocolate Chip
$6.75
Silver Dollar
$4.25
French Toast
The Original French Toast
$6.25
Raisin Bread French Toast
$6.75
Suttons Favorite Stuffed French Toast
Strawberry whipped cream cheese layered between two slices of white bread French toast,
topped with strawberries and powdered sugar.
$7.25
* short stack of pancakes and French toast are available

Add a scoop of ice cream or pure maple syrup $1.99
---
BREAKFAST FAVORITES and SAVORY OMELETS
We proudly use eggs from Thomas' egg farm located in Schuylerville, NY
Omelets include fruit garnish and choice of home baked toast and home fries, or 3 sides
Pancakes
Substitute egg beaters or egg whites for an additional charge. Substitute fruit for $1.25
Single Egg
$3.75
Two Eggs
$4.95
Sausage Links & Two Eggs
$6.95
Oscar's sausage patties & Two Eggs
$6.95
Bacon & Two Eggs
$6.95
Canadian Bacon & Two Eggs
$6.95
Ham & Two Eggs
$6.95
Cheese Omelet
$8.25
Ham & Cheese Omelet
$9.25
NY strip & Two Eggs
$11.50
Hash & Two Eggs
6.95

Western Omelet
peppers, onions, ham & cheese
$9.95
Vegetarian Omelet
broccoli, mushrooms, tomato, basil & cheese
$9.95
Mexican Omelet
peppers, onions, salsa & cheddar cheese
$9.95
Farmers Omelet
peppers, onions, ham, home fries & cheese
$9.95
The Stack
4 pancakes layered with bacon, sausage & ham
$9.50
---
BREAKFAST SANDWICHES
Served with home fries
The Basic two fried eggs, american cheese, choice of sausage patty, bacon or ham served on a hard roll
$8.95
Veggie two eggs, fresh baby spinach and cheddar cheese on a homebaked roll
$8.95
SIDE PLATES

Fresh Fruit Cup........$4.95
Home fries...............$1.95
Ham, bacon, sausage links, Oscar's sausage patties, or Canadian bacon $3.75

KIDS CORNER
$5.95
1 Egg with Bacon or Sausage choice of toast or single pancake
2 Slices of French Toast with bacon or sausage
Pancake with bacon or sausage

Cereal - assorted brands $1.85
For parties of six or more 18% gratuity will be added to your check.
No separate checks for parties larger than 6.

Thanks for dining with us!
Lunch
---

Lunch Menu
Served Monday– Saturday 11:30-3:00 Sunday 12:00-3:00
STARTERS
Stuffed Quesadilla
Flour tortilla with cheddar cheese, fresh diced tomatoes, black beans, baby spinach and our spicy sour cream.
$8.95
Our Signature Chicken Wings
First baked in our house rub, then gently fried.
served with homemade bleu cheese dressing.
Available mild, medium, hot or barbeque
$8.95
Creamy Artichoke Dip
A creamy blend of spinach, artichoke hearts and cheeses,
accompanied with crispy tortilla chips for dipping.
$8.95

Mozzarella Sticks
Served with house-made marinara sauce or raspberry melba.
$6.95

Basket of Hand cut Fries $4.95
Cajun spiced served with bleu cheese
Loaded French Fries
Our hand cut fries topped with cheese, bacon, jalapenos
Served with sour cream and salsa
$8.95
---
SOUP DU JOUR

All of our soups are always made homemade using the finest ingredients available
Cup $3.50 Bowl $4.50
French Onion
sautéed onions, beef broth, croutons, topped with provolone and swiss cheese
$4.25
Home baked Boule
a crusty bread bowl filled with your choice of soup, served with a tossed salad
$9.95
---
SIDES

Potato Salad, Pasta Salad, Cole Slaw, Chips
$2.25
Hand Cut French Fries, Onion Rings, Sweet Potato Fries
$3.75
---
SALADS
All salads are served with a fresh-baked roll and homemade dressing on the side.
Dressings: Our famous Poppy Seed, Russian, Italian, Bleu Cheese, Ranch, Pepper Parmesan,
Cranberry Horseradish Balsamic- Vinaigrette, Caesar, Raspberry Vinaigrette.
Add Chicken, Steak or Shrimp to any salad for an additional charge
Spinach Salad
Baby spinach, bacon, hard boiled egg, onion, cucumber, tomato,
mushrooms & homemade croutons
$9.95

Dream Spinach Salad
Baby spinach, apples, nuts, raisins, mandarin oranges, celery & cheddar.
$9.95
Garden Salad
Spring mix with assorted veggies.
$6.50
Caesar Salad
Crisp romaine, homemade croutons
tossed in our homemade caesar dressing
$9.95
Beet Salad
Fresh Greens, candied walnuts, and goat cheese
with a citrus vinaigrette
$9.95
Chicken Salad Plate
Homemade chicken salad, potato salad, and assorted veggies
served on a bed of lettuce
$10.95
Cobb Salad
Romaine, hard-boiled egg, diced tomatoes, diced chicken,
bleu cheese & avacado
$10.95
Fajita Salad
Blackened chicken, black beans, tomatoes, cheddar, chopped lettuce & avacado
served with crispy tortillas and creamy lime dressing
$10.95
---
OUR ALL TIME FAVORITE SANDWICHES
Served with choice of pasta salad, potato chips, cole slaw, or potato salad
...substitute hand cut fries, sweet potato fries, onion rings or a sa;ad for $1.50
Southwestern Grill
Smoked chicken breast, tomato,cheddar &
orange cumin mayonnaise on grilled jalapeño cheddar bread
$9.95
Black Bean Burger
Homemade black bean patty, mexican aioli and
sautéed onions on your choice of cheddar or jalapeno bread
$8.25
C.B. Grill
Smoked turkey breast, swiss cheese, tomato &
Dijon mustard on cheddar cheese bread
$9.95
Roast Beef Combo
Bacon, tomato, swiss cheese & cole slaw
piled high on your choice of bread.
...with homemade russian dressing
$9.95
French Dip *
Hot roast beef, sautéed onions and swiss cheese on french bread,
served with au jus & a tossed salad
$11.25
Portabella Wrap
Portabella mushrooms, spinach, sundried tomatoes,
sautéed onions, and provolone cheese
in a warm Garlic herb wrap.
$9.95
Monte Cristo
Sliced turkey breast, ham, swiss, bacon and cranberry sauce
in between two slices of our hand battered whole wheat French toast
$10.95
Pineapple Chicken
Barbeque chicken breast,
topped with a pineapple, lettuce and mayo
on a grilled hard roll
$8.95
Reuben
Choice of smoked turkey breast or corned beef
with sauerkraut, swiss cheese and homemade russian dressing on rye bread.
$9.95
S.S. Grill
Roasted chicken, onion, roasted red peppers,
swiss cheese and pesto in a warm flour tortilla
$10.25
Turkey Apple Melt
Roast turkey, dijon mustard, sharp cheddar cheese and
sliced apple on your choice of bread
$9.95
Pulled Pork Sandwich
A hefty portion of pulled pork smothered in BBQ sauce
topped with coleslaw & sharp cheddar cheese
Served on a grilled hard roll
$9.95
---
COUNTRY STYLE BURGERS
8oz lean ground beef served on a hard roll with lettuce & tomato
Served with fries and a pickle
Hamburger
$9.25
Cheeseburger
$9.75
Bacon Cheeseburger
$10.25
Mushroom Cheeseburger
$10.25
Veggie Burger
$8.95


Extras
Sautéed onions, horseradish mayo, salsa mayo, jalapenos,
BBQ Sauce, Pesto Mayo, goat cheese, bacon
$.50
---
BUILD YOUR OWN SANDWICH
Served piled high on choice of home baked white, wheat, rye, pumpernickel, butter croissant or hard roll.
Served with choice of pasta salad, cole slaw, potato chips or potato salad.
(Extras– tomato, cheese .50)
Roast Turkey
$8.25
Tuna Salad
$7.25
Smoked Turkey
$8.25
Egg Salad
$6.25
Roast Beef
$8.25
Chicken Salad
$8.25
Ham
$8.25
Corned Beef
$8.25
Choice of Hellman's mayo, mustard, russian or horseradish dressing
---
Soup & 1/2 Sandwich Combo
Choose from any of the above build your own sandwich options
$9.95
---

KIDS CORNER
Served with choice of drink and a cookie
Chicken Fingers, Hot Dog, Grilled Cheese, Peanut Butter & Jelly or Junior Burger
$5.75
---